Yes, the batteries are renewed and photos have been taken. But first, let me say that I'm ecstatic that Eric LindgrossLindros has signed with the Toronto Maple LaffsLeafs. If there was ever a combination that was more deserving of each other, I'm not coming up with it.

Now, to the knitting. First off, Hush-hush, both front and back views: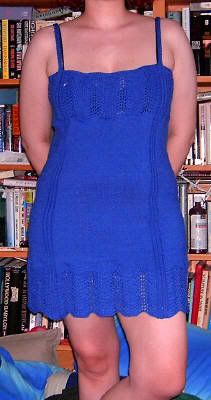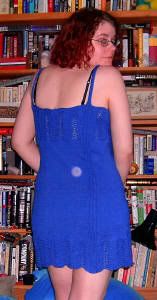 And Grove Ribby (it's the light making it that see-through, I hope):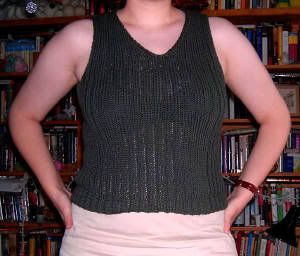 I'm having bad break-out PMS (ugly but far preferable to bitch-on-wheels PMS) which is why my face is missing. Hush-hush is also very cute over jeans, which makes it much more wearable when the weather reaches denim temperatures. Currently, it's hovering between shorts and "Do I REALLY need clothes?"
Clothesknit's package arrived on Monday, and along with the 4 skeins of Koigu were four lovely little stitchmarkers, one of which is already living in a project:
It's marking the start of round in the denim pullover, the color of which is really faded out in the picture.
This
is far more representational of the actual color. If you want to freak out fellow knitters, try an indigo-dyed yarn. Blue hands are always good for a panic (you'd think the grungy-looking [but clean] towel over my lap might be a clue that I know the dye bleeds!) While at the store, I picked up metal dpns for the sleeves and neckband and this: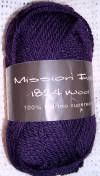 A single skein of Mission Falls in Damson, for Eris swatching purposes. I was hoping that the Patons Classic Wool purple was going to be a nice one, but it's wrong. The Damson, if it shows cables nicely, would be perfect (and twice the price of the Patons.) I have some Classic Wool in the stash, so eventually, I'll swatch them both up and make decisions from there.
Oh, and this is what the Leaf Lace socks look like in plain yarn: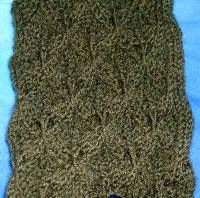 Still not helpful about detail, is it?