Hush-hush approaches completion! Which is a very good thing, since endless knitting on 2mm needles can get monotonous! Here's a close-up of the lace in progress: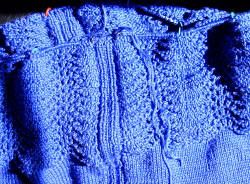 And a shot of straps in progress: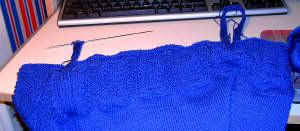 I left the back strap stitches live (pattern called for binding them off) because I think a 3-needle bindoff is more secure. However, trying it on with endless sharp dpns sticking out gets painful. A photo of it on should come early in the week.
I set up a trade with Amanda/clothesknit: Koigu for Phildar and Fleece Artist: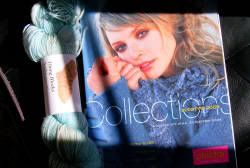 That's some lovely aquamarine sock yarn (with a pattern for tilting block socks) and the new autumn Phildar. They have an eyelash yarn! As I said to my mother, "Nooooo. That crap's like kudzu!" There were a couple of sweaters I liked, but I'm just going to hope they get posted as freebies. There were also ponchos and shoulder-warmers (chauffe-epaules!) I get 4 skeins of Koigu, which has to come by mail to my neck of the woods anyway - I've got a sweater idea that I want to fiddle with, so the yarn will be used for testing and then for socks. Gee, Mom and I can have matching socks. Yippy.
The Girl from Auntie has a
new cardigan/pullover pattern
available. Forty incredibly detailed pages for a mere $6 US - it's a total bargain. (Impulse control? Not so much.) Add that to my other fall-winter plans (Slip Stitch Intarsia Kilt and Bias Fair Isle Pullover from
Loop-d-loop
and possibly a simple Phildar cardigan 'cause Elann has a good inexpensive yarn choice coming up), and I'll be a busy bee. Not that I need more sweaters. Mom liked it too....