But first, a rant. (PMS seems to be striking early.)

If I see one more "what yarn should I use for Clapotis?" question, I'm going to reach through the computer and show the person the search function. Honestly, the question came up 3 times in the last two days on the board. It's a freaking scarf. Use whatever the fuck you want. Or do you want me to come knit it, too?

(And the person who posted on the old board who wasn't Princess Chinchilla? Has yet to ask her question on the new board.)

On to pretty pictures. First up, Sweet and Lowdown: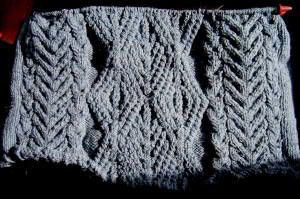 That's two repeats of the center cable panel. A pain in the butt, since the stitches travel on odd rows and twist on even rows. Combine that with a very heavy, tight fabric, and it occasionally gets ugly. And with 208 stitches, ripping back is no fun at all. But, it's going to be gorgeous when it's done. Some days, that's the only thing that gets me through.
Next, the Phildar cardi, which is now named Opale, the name of the color: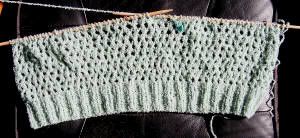 I now remember why I dislike straight needles - not enough to buy circulars, but enough to mentally curse the uneven weight distribution. I'm hoping that the fronts and sleeves will be less of a problem, since they're narrower.