First up, finished objects!
Dad's DNA scarf on the blocking board:


And my Hallowig, which languished for weeks until I finished it: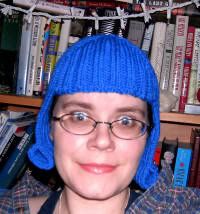 The flip has been sewn in, because I preferred the flippy look, and it wouldn't necessarily stay if not "strongly encouraged" (read: attached!)

So it's time to progress to new projects, like Rhapsody on Tweedy Beach: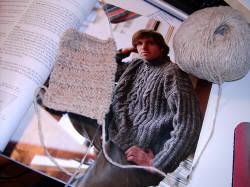 That's the first swatch and ball lying on the picture. I have done a second swatch on the next size up, because I think the original was a smidgen small. If the second swatch is too large, it's not a big deal to stick with the original needles - I just figured it was best to double-check.

I have also started Mom's first pair of socks. They're charcoal and not great photography candidates. I'm using Kim Salazar's Pine Tree sock pattern, to give me something to do other than endless stockinette. I'm progressing nicely through the leg part of the first sock right now.

I hit the local needlework festival on Friday. I bought some yarn for my secret pal and a whole lot of yarn for me. Nineteen hanks of Briggs and Little Heritage in "Gray Heather" to make my Sweet and Lowdown chair: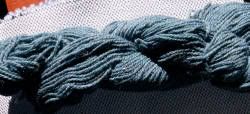 Does that look very gray to you? It doesn't to me, but it's the color I liked and thought would work well in a decorating scheme. I LOVED hunter orange, but a blazing neon orange hand-knit chair cover isn't what one would call subtle. There was a vendor with a very good price on the B&L, so the yarn cost me half of what the Lion Brand Fisherman's Wool cost.

The first three discs of "The Wire" arrived on Monday, and I finished them off on Friday night. Mom is just finishing up disc 3, and the others have been mailed back. I love this show. It was created by David Simon (who wrote the book that "Homicide: Life on the Streets" was based on.) Nothing like watching a drunk man try to assemble IKEA furniture to crack me up.

OK, enough blithering on for me. I should go (a) dye my hair and (b) finish roughing out my NaNoWriMo outline so I can get cracking tomorrow!