Yes, it's picture time. I've been shopping up a storm lately.

First up is last week's purchase from Elann. I actually got this and took the picture on Monday, just haven't gotten around to posting it until now.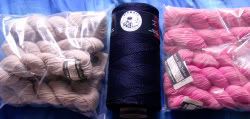 That would be one big cone of Den-m-nit cotton in dark indigo, for a Rowan-inspired(ish) sweater, to be designed by me (eek!), 5 skeins of Classic Elite Waterspun in Bisque (DNA scarf for Dad for Christmas) and 5 skeins of Waterspun in Bright Pink for me. Yummy. I've wound one of the bisque hanks into a ball, and should start that in the near future.

Today, I went to my other LYS, ostensibly to drop of the Bigger Badder Baby Blanket and the rest of the yarn for Project Linus, but really to do a little shopping. Picked up some stuff for my secret pal (no pictures of that), a bottle of lavender Eucalan (like you want to see that), and this: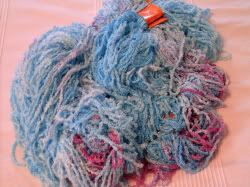 That would be 3 (yes, I said three) skeins/hanks/whatever of Colinette Isis in Blue Saturn. I was only going to buy one, but 100 meters isn't very much, so I picked up the second. There were only three to start with, and the other one looked lost without its little friends, so it came with me too. And the price for this bounty of blue? Regular price, $25 per hank - $75. But this was on sale - total price $30. Yes, 10 measly bucky-wuckies each. As I told my mother, the yarn that follows me home is much cheaper in the long run than kittens! This stuff is calling out for something shawly/throwish. Maybe a simple triangle...