(OK, I finished late Friday night as opposed to now, but I was lazy.)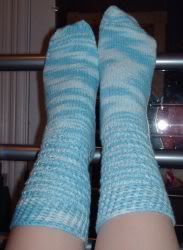 That's a completed pair of Madtini socks. These kicked my ass. The cuff and leg pattern slip stitches over other stitches, and I've discovered that that kind of technique tightens my gauge significantly. Like one stitch per inch. So the cuffs are on the tight side and I had to consciously loosen up on the foot. The yarn was not the best choice for this pattern - I think a wool might cause less tension for me. I did make a note on my pattern to knit the cuff stitch and then knit the stockinette section for gauge if I knit them again.
I did advance to the next round, which makes me happy (I think.) My division seems to be either the speedy knitters or those who don't sleep, as it's been the first one done both times. We'll see how the next round goes. It calls for variegated yarn, so I think I'll pull out the Mars Quake Lisa Souza and knit Mom some socks.