As the title might indicate, this is gonna be a photo-heavy post.

First up, finished objects. Finally, some pictures of Spring Leaves socks: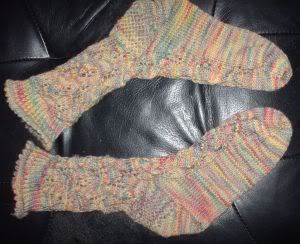 And a close-up, since you can't see detail in that picture:
I changed the cast-on, the heel and the toe of the pattern. The tubular caston was too tight for my mother's foot, so I replaced it with a picot cast-on. The pattern called for a garter-edge heel (too lazy to look up the proper name), which I didn't like - I used eye of partridge instead. Finally, I hated the star toe, so I did a standard toe. Yes, I lost the carryover of the leaf into the toe, but I'm happier with the sock.
Now, the "Hats" that showed up in the finished object list. I knit 3 hats for
Dulaan Project
. Why? Why not? I needed a change from endless socks as the quick and portable project, and I had stash yarn that would work. The end result: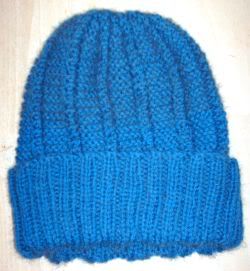 Hat 1 - A
mock cable and garter stitch hat
by Kathleen Day, knit with Cherry Tree Hill Possum Worsted in Bluestone. It was some of the yarn in the grab bag I bought. I'm not fond of it, and I think I might be slightly allergic to the possum. (Note - the yarn is soft and warm, it's just not me.)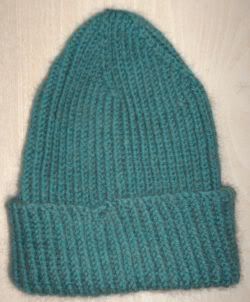 Hat 2 - Marsan Watchcap by Stacy Joy Elkin, in CTH Possum Worsted in Teal.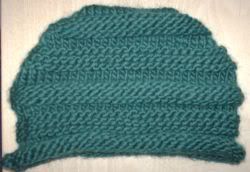 Hat 3 - the corrugated hat/swatch from Teva Durham's
Loop-d-Loop
, knit in Brown Sheep Lambs Pride in Pine Green (which was one of my Secret Pal gifts from Joeli). This picture is pre-blocking, and blocking did even out the wonky seam. Nevertheless, if I were to knit more hats with this pattern, I'd do it in the round.
Maggie is almost done (one short sleeve to go), so I'll finish it and model it later. (I promise!). As a teaser, here is the yarn that I'm using: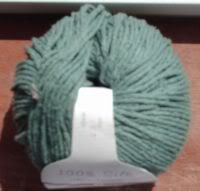 Estelle 100% Silk in "Leaf Green," although I've been mentally calling it Laurel.
The big curly pile of yarn in my last real post is now all smooth and re-balled (and a bitch of a job that was, since it all had to be separated - ugh). Here's what it looked like while drying: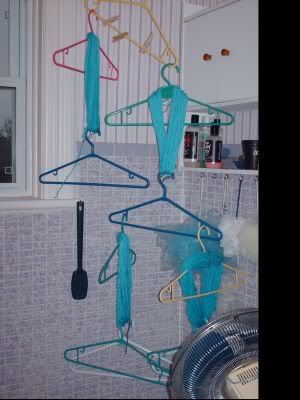 Art at its finest.
Now, onto acquisitions. I've been a busy little bee. I picked up some acrylic/merino at the LYS for their chemo cap competition: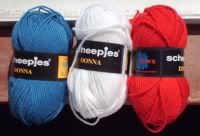 I'm planning on a set of three hats - a fair isle pattern in red and white, a cabled one in either the blue or the red and a knit/purl texture in whichever one I don't use for the cabled. All will be tipped in the white. I need to get cracking on those too. (So many things to knit, so little time!)
I also picked up three lonely balls of the 100% silk in navy. They were sitting in the clearance section, and at $2 a ball, I just couldn't leave them there: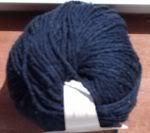 I think they'll become a bag of some sort, inspired by the
Seashell
bag in the Classic Beach book - just smaller and knit in one piece. Perhaps some pink trim (I've got some pink silk lying around here somewhere.)
I also succumbed to the lure of eBay. Someone posted on the Knittyboard about a seller selling cones of Zephyr for $34.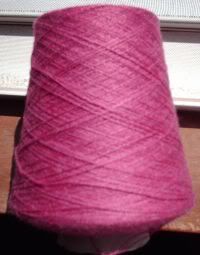 That's a pound of Dianthus. It will become a bunch of things, including this sweater from the Holiday 2005 Vogue Knitting: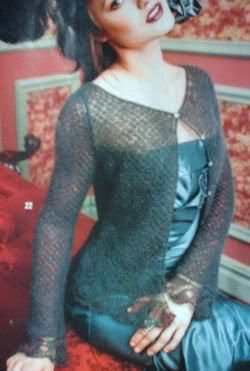 It's a beaded lacy sweater, originally knit in a mohair yarn. I don't like mohair, but I love Zephyr.
I have also been half-heartedly trolling eBay for a specific yarn, and finally found it: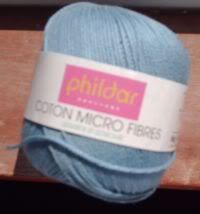 Phildar Coton Microfibres in Dauphin (Dolphin), a gorgeous blue-grey. It will become a sweater out of a much-loved Phildar mag (from which I also knit Opale and Kimono):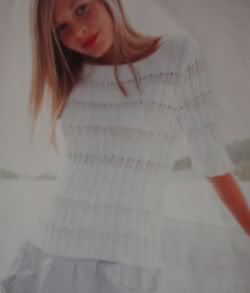 Add to this haul the yarn I inherited from a friend, and I'm nearly bursting at the seams: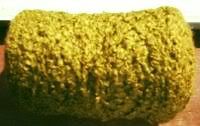 It's some form of green boucle - I need to do some burn testing (I think there's wool there, but I wouldn't swear to it) and some gauge runs. It's either scarf or trim material. But I'm in no rush to use it.