I'd love to claim I was doing all sorts of interesting things, but I've been spending waaaaaaaaaay too much time playing Farm Hustle, an addictive little bugger. Plus, the little crocheted animals are darned cute.

As the sidebar indicates, there has been a lot of knitting going on around here. Two projects are done, but I only have one photo ready for display. (I don't like the photo editing software that came with the camera and I can't reload the stuff that came with the scanner, because I don't have the scanner. I'm experimenting with some stuff, so photos will come eventually. I've got lots of pictures, they're just huge.) So, the swatch from the last set of photos has turned into a complete tank: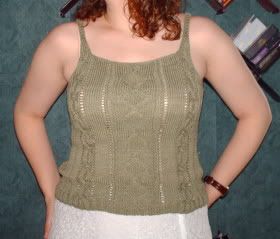 It was a quick knit - about a week and a half. I used the yarn called for in the pattern, but converted it to a knit-in-the round, and 3-needle-bo'd the shoulders. I also finished Mom's Spring Leaves socks, in time to give them to her for Mother's Day. Photos will follow eventually.
As for the new items in the sidebar, the Mystery Design is one I hope to submit somewhere, so no pictures of that (and no color clues, because I used white for the bar. I try to match the progress bar to the item being knit. Geeky but true.) I've swatched
Rosita
on the needles the pattern calls for, but my gauge is seriously whackadoodle. Before washing, I had too few stitches per inch, but too many rows. It's drying on the sweater rack behind me, so we'll see how it develops. I need to drag the pattern and my error-ridden chart (I've fixed them on the printout, but not on the computer file - mostly just decreases pointing in the wrong direction) to sit and knit tomorrow, because I've decided it's going to be knit in the round. I was always planning to do the sleeves in the round, because the arm seams are just lumpy-ugly, but the swatch had indicated that I don't want to futz around with seaming the body either. I just want some reassurance.
Maggie's
yarn was acquired as part of the "Let's take advantage of 25% off yarn at the LYS" program. Eight balls of
Estelle 100% Silk
in #31 (leaf green) followed me home on Saturday, along with copies of Mission Falls "Spirit" and "Homecoming" books. (Mags Kandis was at the store, so they're lovely signed copies. I was expecting to be fighting the crowds, but not so much.) Last Thursday, two balls of Estelle Young Touch Cotton in crisp white followed me home, along with the Summer Interweave. Now, why two balls of white DK weight yarn? Well, it's joining some other yarn already on hand: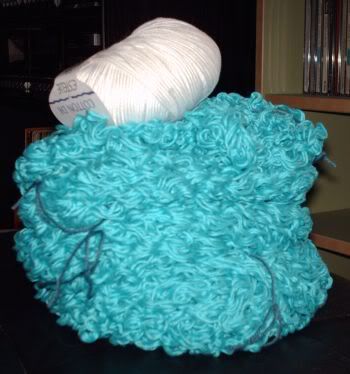 That's one ball of white on top of 260g of turquoise Young Touch, recycled from: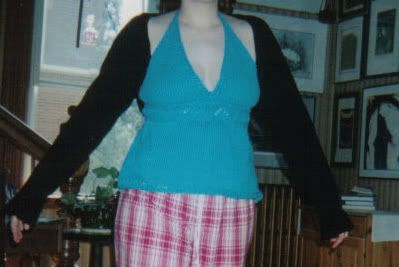 That's Knitty's Cleo, which I knit about three years ago, and never wear. I must have been out of my mind when I chose to knit it, because I don't wear halters well (they bite into my neck - trapezius muscle, I think) and that's a lot of me on display. I finally came to my senses, ripped it out and there you go - a big pile of curly turquoise cotton. Which isn't as curly anymore, since the hanks are hanging off the shower rod drying. When they're dry, I'll separate (double-stranded knitting) and ball in preparation for knitting
Picot Camisole
from the Spring 2006 Interweave (scroll way down, as it's near the bottom). The white will be used for the picot trim as designated in the pattern, as well as the straps and the I-cord trim under the bust.
I have some whining about the DVD situation, but it's late and this is already long. It's not improving any day soon.