What, you didn't listen to Loverboy?

Anyhow, on to knitting. Here is the previously threatened photo of the completed-ish back of Bias, now including sleeves!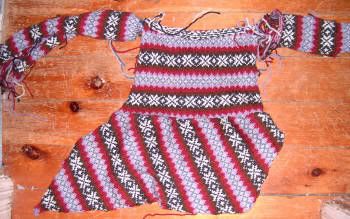 The sleeves and upper back need end-weaving and blocking (frankly, I'm hoping to block the bottom into something a little less parallelogram-y while I'm at it.) I have vague plans to pick up the stitches and start the front tomorrow night. Mind you, that's always subject to change.
I finished the first of Mom's latest pair of socks at band practice on Monday, and managed to cast on the second. Doesn't sound like an accomplishment? These are toe-up, and my preferred cast on is the
figure-eight
, which is tricky at best. Factor in that I had left the pattern at home, and we're talking nearly miraculous. (Truly miraculous would have been getting it on the first try, instead of the third.)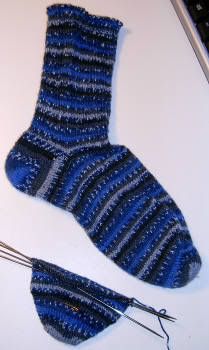 Here is a close-up of the toe on the needles, just to show how pretty my 2mm Inox needles are: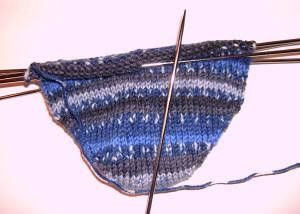 Shiny and sharp, don't you think? (I've got 1.25mms that I tentatively think will get pulled out when I knit up the Monaco yarn I bought - a cute little pair of anklets for me.)
I also swatched a bit this weekend.
Maggie
is calling my name as a summer knit, but I don't want to spend the $100+ the RYC yarn would run me. Aran-wise, my LYS had two tempting options:
Mission Falls 1824 Cotton
and
Estelle Silk
. The cotton is a bit cheaper than the silk, but both are nice yarns I have used in the past. I had a skein of the silk left over from a previous project, and I picked up a skein of the cotton at the LYS last week. I swatched each in garter (not pictured, 'cause they're boring) and was 99% sure the silk would win. Then I swatched the diamond cable pattern: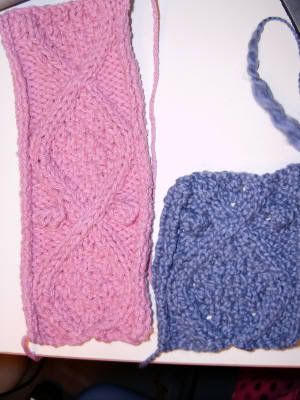 There went the last shred of doubt. The texture of the cotton obscures the design, and the silk is much closer to gauge (I lazed out and swatched both on 4mms - the garter swatch of cotton was done on 4.5 and was too large, so I guessed that the 4mm would be right. I don't think I was.) Oh, and ignore the bobble on the left. I knit the swatch while watching "Pride and Prejudice" and managed to really screw it up - there are a bunch of loose stitches on that. I won't be doing the bobbles anyway, because I don't like how they look, and I think the cable looks fine without them. I'll also knit the sweater as a pullover instead of a cardigan, mostly so I don't have to deal with buttons and buttonholes and button bands. Plus I'll probably do it in the pale blue.