After talking about valuable collectibles on the ride home from band practice, I ran a few of my signed titles through abebooks. Most of the books I checked (A - Ch, because most of the rest required yanking out of a stack instead of taking the whole stack to the computer room) were worth $50-100 US, one was worth $250, and one was worth a rather astounding $400: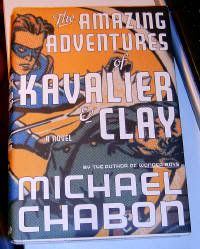 Who knew? I thought the Atwoods would be more valuable. I have no plans to sell the books - just curiosity.
Knitting continues slowly - it's still miserably hot. Hush-hush grows slowly (anything knit on 2mm needles grows slowly) and the Grove Ribby grows faster: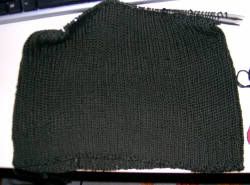 That's about 8 inches, and I'm almost at the division point (13.5 inches). At that point, I will try it on and see how I like the fabric. It seems really loose now, but that may change on my body.
Last night, I was in the bathroom, washing up for bed. I hear clatter behind me, turn around and see my cat crawling into the storage unit: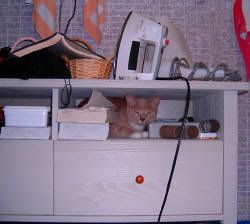 She got all nice and cozy between the Uncle John's Bathroom Readers and the lighted makeup mirror. Silly cat.