Some knitting: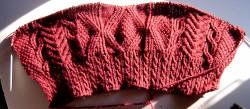 The back of Inishmore, one full repeat and a couple of rows into the second. I've finished the third (pictures were taken earlier this week, but I just haven't felt like doing anything with them until now.)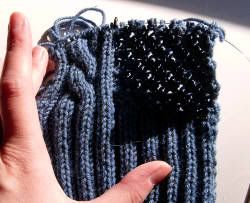 Closeup of the sleeve of the Phildar sweater. This was the less shadowy of the two pictures I took. Haven't done a damned thing with it since the picture was taken. The shadowy stitches are pt. d'astrakhan aka blackberry stitch aka trinity stitch.

I've also turned the heel on Mom's sock, and done one repeat of the lace pattern - the same as on my Waving Laces sock. She liked the pattern, so I'm using it, although only on the cuff.



Meme (why? why not?)

Grooming Products

* Shampoo: Lush Soft Shampoo Bar
* Moisturizer: Ultralight for face, Potion for body (both from Lush)
* Perfume: Generally not. Still in mourning for Tiffany's Trueste.
* Razor: Intuition (one less thing to keep track of in the shower)
* Toothpaste: Tom's of Maine and Colgate Total (Tom's is hard to find and not cheap, therefore I supplement with the familial Colgate)

Electronics

* Cell phone: LG TM250 I think - it lives on its charging cradle. We bought it so we'd have it if a problem arose while out. Problem is, nobody remembers to take the stupid thing.
* Computer: Compac something-or-other
* Television: Magnavox. It's nearly 10 years old, a 19" screen, and works just fine.
* Stereo: Panasonic minisystem. It's hooked up to the DVD/VCR to give me stereo for watching movies, and functions as my alarm clock. No more idiot DJs!

Home

* Sheets: Cotton - currently gingham, but I also have plaid sheets. I have a set of ivy-print flannel somewhere in the garage, probably wrapped around kitchen crap.
* Coffee-maker: I don't drink that stuff.
* Car: Personally, none. The parents own an Accord
* Stationery: Wide variety, mostly art cards. Not that I write letters - I'm just a sucker for beautiful stationery.

Beverages

* Bottled water: Whatever is around
* Coffee: I still don't drink the stuff. Tea-wise, I love Tazo and Stash. I've got some coming from Upton Tea, and we'll see how that is.
* Vodka: Yes, but I drink out (drinking alone - so not a good idea.)
* Beer: If other people are drinking it, in which case I tend to drink what they're drinking, unless it's a dark beer (ick.)

Clothes

* Jeans: Old Navy.
* T-shirt: Many bought at events. Stick a snarky phrase or image on it, and I'm all over it. Plain ones from wherever they catch my eye (mostly Old Navy and Zellers these days)
* Briefcase or tote: Timbuk2 messenger bag (large, I think) in pink/silver/pink. Birthday present 3 or 4 years ago - loved it then, love it now.
* Sneakers: Adidas tennis shoes at the moment (they were on sale.) Should be looking for new ones, but I don't wear them often anymore.
* Watch: Timex Indiglo. On at least its third band (and getting close to time for a new one.) Only off when I'm in water.

Favorite Places: Montreal; NYC; Portland, OR.

Extravagances: Yarn, books, fancy cheeses.