Or at least the Elvis wig. I just couldn't work with the Snowflake. Royal pain in the ass. I may try again, with a proper yarn - no novelty crap. I currently have nothing on needles. I started the Waving Lace socks that replaced the Elvis wig, but I screwed up the first couple of rows, so it will wait until I'm better rested. I'm using the yarn that was going to be the Mauve Marching Mitts. I knit one, which didn't fit very well, and I've traded for some Teflon-coated water-resistant yarn that I think will make better gloves. I think I'm just needing some non-knitting downtime.

Then again, I've spent all week dealing with a mouse invasion:

Cookie mice, that is. Here are mugshots of one of the mice: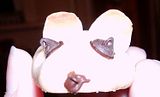 I had two band parties, sit and knit, and my dad wanted some for his office potluck - a total of 2 1/2 batches of mice. Dad told me this morning he wanted more than I had planned to make, so a copy of Phildar
Irlandais
is winging its way to me in recompense. I like cables, OK? Plus, check out page 10 (click on the little circle marked 10 - it will bring up pages 10 and 11) - I'm intrigued.
The board seems to be hitting cranky mode. Which is a bad thing, since I'm in PMS mode anyway. It gets frustrating seeing the same questions over and over and over and over and over and over and over and over and over and over again. There are days I just want to say "We have a nifty search function. Why don't you try it?" Except some newbie would tell me they don't feel welcomed. Which would possibly cause me to respond "I'm not feeling particularly welcome right now either, and I have seniority, you little snip!" Therefore, I'm laying low. There have been times I have written a detailed answer to a question, including diagrams, only to see the exact same question posted in the same forum the next day - just a different pattern. Grrrr. (A not infrequent issue for me - PMS simply aggravates my natural snarkiness.)